Making Life Her Canvas
She gazes into the camera lens back at the character she's perfected. Her clothes are selected; lashes, wig, and makeup are carefully applied to capture the essence of their identity. This is just a typical day for high school junior Kylie Crane, filming cosplay content for her nearly 2,000 followers on TikTok.
Crane also has a passion for makeup and special effects. She is currently enrolled in the school's cosmetology program and has big dreams of becoming a special effects makeup artist for Broadway productions.
Crane is taking action to reach her goals this Halloween season.
"This year my mom's going to try to help me get a job in a haunted house to help with the special effects makeup," she said.
Crane mainly gets inspiration for her SFX looks from horror movies.
"I'll just be watching something and I'll see something from the background and I'm like, 'that would be a really cool makeup look,'" Crane said. "And then I'll try it, or I'll just be sitting in my room like, 'Let's try doing makeup.' And then I'll do something, and it just leads me to a completely different thing than what I was thinking of."
Crane has some words of wisdom for anyone wanting to dip their toes in the world of makeup and cosmetics.
"Blending is your number one best friend, and you don't have to have expensive, rich-kid makeup to do all of this stuff because I started off with a palette from dollar tree," she said.
The way Crane began her cosplaying journey, however, was from the help of a friend.
"Elliot was the one who got me into cosplaying," Crane said. "He started cosplaying, then he asked me to do a duo with him one night, so I [thought], 'Sure, I don't care'. He put the wig cap and all the stuff on me, and we were just having a fun night, and I thought, 'this is actually really fun.'" 
From there, Crane went on to create her TikTok account, @_gay_frogs_cos, and has gained a following of 1,775 people.
"I know other content creators have their following [who are] demanding, but mine are understanding and they're like, 'Yeah take the time you need; you need a break,'" Crane said. "They're really nice and I love seeing their support."
That is only one thing she likes about posting.  She enjoys a number of things about posting her content.
"It's seeing people's reaction to it," Crane said.  "I especially love it when people duet my videos; I think it's the best thing ever. What I also really like is that some of the artists on TikTok will draw me cosplaying and stuff. I find that absolutely amazing. I don't care what your art style is; you can draw me, and I will get on my hands and knees and thank you. I will take your hand in marriage!"
There are some new ideas for future videos on the app. She has plans to cosplay as characters from the MYCT (Minecraft YouTuber Community), and even Denki from My Hero Academia.
Crane said to followers, "New content coming soon; I swear. I promise." 
View Comments (2)
About the Writer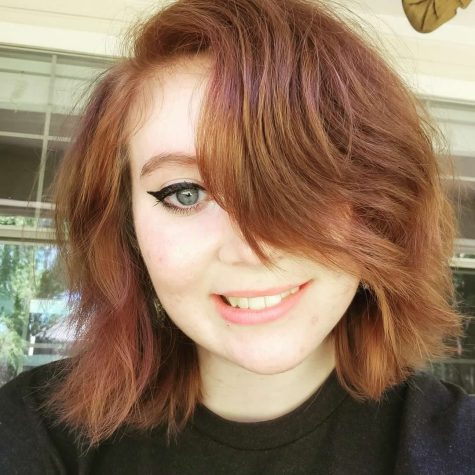 Brooklyn McKinney, Reporter
Hello! I'm Brooklyn :) I enjoy reading, writing poetry, and watching Tim Burton movies. I also run the 400-meter dash for the track team and have a major...