From Behind the Screen to on the Seen
Joshua's 2021 head drum major, senior Josh Bischops, made a vast leap to the band's highest position, from distance-learning his entire junior year to everybody's eyes on him this year. Last year, COVID-19 affected him more than some, but he kept his goals in his heart and stood strong. 
"[It's been] a pretty big jump to be honest. I tried out for leadership every year," Bischops said, "but I didn't get it because I had [tough competition also trying out for] trumpet section leader, but I tried every year and I [spared no effort]. So, I felt like that's why I deserve to be head drum major because I wanted to serve the band the best I could."
Bischops has played the trumpet for seven years and has a passion for his instrument, but last year it was difficult for him to find the motivation to practice. He has been in the varsity high school concert band since freshman year, a founding member of the Indoor Winds in the spring of 2020 and the international-champion indoor group, M.Es.S., and an active member of Joshua's NRG jazz band.
"I'm not going to say yes, I practiced every day, because that is just a lie. It was pretty hard because it has to do with the fact that you're like, 'Oh yeah! No one is watching me. Why do I have to practice my instrument? Why [even] go to the concerts if I don't have to?'" But then Bischops realized, "'Hey, I still have my senior year, if I don't practice now or if I don't do anything, what is the point of me being in the band?'"
After dedicating himself to his ambitions last year, he is finally back at school in-person, excited to see old and new friends, and now cherishes the time he spends at school, something most of us take for granted. Bischops has been waiting for the moment to see familiar faces of his friends and teachers since quarantine, an experience that every in-person student discovered when they were welcomed back to school last year. 
"I mean, not seeing my friends is a big factor during COVID-19 because it just felt different," Bischops said. "Like, friends are what brings me to Joshua. That's why I go here, and also it's been really hard learning the stuff they taught online because there wasn't any face-to-face teacher. The interaction was more like a 'Hey, this is a video, this is what we did today. And here you go!' [Online has affected my work ethic]… because [when I was] online, [schoolwork] sometimes felt a little bit easier; sometimes it felt harder, but I think I'm getting on the right path."
Bischops and his parents decided he would stay home last year because their health was comprisable to the coronavirus, and it would be best if they all worked at home. It was a hard decision that jeopardized his high school experience, but now that Bischops has returned to school, he feels blessed to be back. 
"I don't think that [my social life has dropped] because the big majority of why I think that is because whenever I got back, I had a lot of support from friends who were still here when I got here and they're really fun to have and just talk to again. So I felt like I grew [socially]—I have more friends now than I [ever] did sophomore year." 
As Bischops reflects back on the year torn by the pandemic, he realizes that he was tenacious and patient to learn in the classroom. Now, Bischops stands tall on a podium overlooking the entire band, with passion in his heart and spirit running through his veins, exhilarated to be back on the field with the marching band once again. 
"I feel honored to lead the band every time I walk out onto that field," Bischops said. "It's absolutely thrilling to conduct the band [members], who all live different lives but are united together as a family, and I see great things on the horizon for the Spirit of Joshua."
Leave a Comment
About the Contributor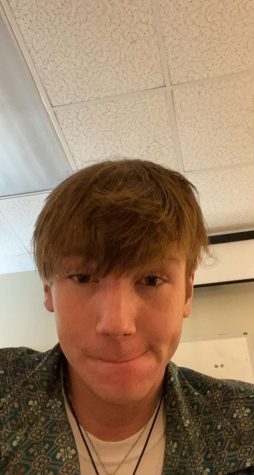 Nick Smith, Managing Editor
HI!

Mrs. Zachry is so grateful that I am her Managing Editor.

When I am not writing the latest news, I am either playing tuba in the honor band or...