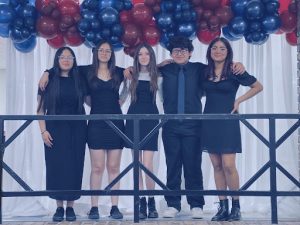 Health Occupations Students of America is an international career and technical student organization. For many students, the organization has become a way to make new friends and expand their knowledge of the medical field. A few seniors are very eager to share their stories and the impact the organization has had on their current lives and futures.
"I feel like HOSA will benefit everybody who joins," senior Mia Leal said. "It teaches medical career skills that students would not get the chance to learn or use in a regular classroom setting."
Mia Leal, two-year HOSA member:
Social Officer Mia Leal feels as if the organization has stimulated her decision in her travel nursing career even more than before.
"HOSA led me deeper into the health science career pathway," Leal said. "I had already wanted to be a nurse, but I know for a fact I do now. To be honest, it has given me an amazing experience all throughout, from competing with different school districts to connecting with the students." 
Rayne Peralta, two-year HOSA member:
HOSA Treasurer Rayne Peralta has made sentimental memories with the rest of the officers and also while connecting with other members. Working with the rest of the officers has taught her to be more open about others' ideas and opinions.
"I would like to be a pediatric physician because of how my personal pediatric doctor has influenced me to pursue that career," Peralta said. "This career interests me because of the opportunities to help others and interacting with diverse groups of different personalities and backgrounds."
Christian Vyers, incoming HOSA member:
For senior Christian Vyers the student organization is new to him, but he is still keen to start. He firmly believes that this organization will benefit him in his future years to come. Vyers aspires to pursue a career in the medical field as a surgeon. He is currently working at an eye clinic to surround himself with people who are experienced and plans to start college this spring.
"I joined HOSA to be more involved in school and gain medical experience," Vyers said. "It would look good on applications for either UNT or UTA, whichever college I decide to go to." 
For these seniors HOSA has already had an impact on their future. New and past members are all excited to get started with the 2023-2024 chapter.