Many high schools have multiple Career and Technical Education programs. All throughout Texas one can find high schools with classes in Culinary Arts, Construction, Agriculture and more. But Joshua High School has something a little less common: A cosmetology program. 
Joshua's cosmetology program wasn't always available here, in house. Starting in 1993, students were sent to Hill College for their cosmetology class periods. Students would either start or end their day in the Hill College cosmetology department in order to gain their license. As more and more Cosmetology students started to fill the hallways on campus, the idea of a department being hosted here became very appealing, although it wasn't as easy as throwing a couple doll heads on some stands in a classroom and teaching students how to cut hair. The school had to get approved by the Texas Department of Licensing and Regulation (TDLR) in order to legally prepare students to get their cosmetology license. After that was processed in 2007, cosmetology became an official class here on campus.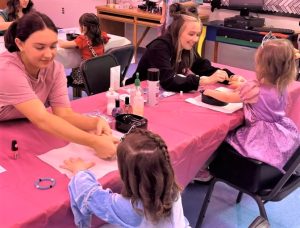 Ever since then, the cosmetology program has been very successful and a great opportunity for students. When first opening here, the classes were only offered to juniors and seniors; as time has passed, these rules have changed and students can now take these classes starting their freshman year. This ensures they are able to get the required 1,000 hours of clocked-in time in order to be eligible to take their state exam. Starting the program at a freshman level has given students more time to learn and take it at a pace that ensures their education is well rounded. 
In four years of education, cosmetology has a lot more to offer than just hair. Students are able to explore the possible careers for being a nail technician, esthetician, makeup artist, and hair stylist. 
"After high school I plan to get my license and get certified in extensions and be a blonde specialist along with extensions," junior Aubree McFarland said.
During these four years, that provides students the opportunity to decide how they're going to manage and use their license. Almost every student in cosmetology has a different plan with what they're going to do after graduation. Some want to turn it into a lifelong career, and some want to use it as a backup plan. 
"I plan to use my license to cut hair in the future as a backup job," sophomore Adelia Vogelgesang said. "After high school if I can't get the job I want, then I can always be a cosmetologist."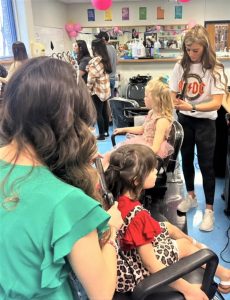 No matter what a student eventually decides to do with their license, they can get useful experience and education from the class. Every year the program hosts Princess For A Day, an event where young girls can get pampered and styled by cosmetology students. This experience offers good skills in hospitality, customer service and basic respect. Students also have to learn about chemistry, anatomy and health in order to keep a healthy and safe salon environment. 
Some students join to start their future, and some join for life-long memories and lessons.
"I love having the opportunity to learn about cosmetology currently with a safe community instead of in the future with strangers," sophomore Angela Gallegos said.