High school can be a challenging time for many students, as they navigate the pressures of adolescence and strive to fit in with their peers. Insecurities are a common struggle among high school students, as they grapple with societal expectations, physical changes and relationships. Here are some of the most common insecurities that high school students face and insights on how to overcome them.
 More than ever, high school students are burdened with insecurities, especially with media platforms on the rise and ever-changing trends. 
"Living in the world we do, it can be hard not to compare yourself to others," junior Emma Lopez said. "I feel like being a teenager, and growing up as a girl most of my life, I've been groomed into being hyper-aware of how I look, thinking that no matter where I was going, I was dressing for some kind of competition against other girls." 
Lopez's story is not unique. Many high school students feel the same pressure to fit in and be accepted by their peers. The fear of rejection and being judged can be overwhelming, so students often find themselves trying to conform to societal norms and expectations.
Additionally, the physical changes that occur during adolescence can also contribute to insecurities. 
"I am insecure about my body because of nearly impossible body standards," junior Mikyle Ganas said. "This insecurity developed very slowly until freshman year, then it picked up a lot more."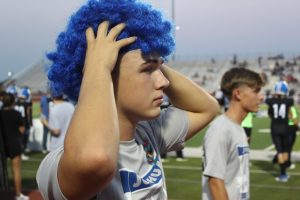 The misconception that boys are exempt from societal pressures to conform and present themselves in a certain way is far from accurate. Boys are often expected to be strong, athletic, and popular, which can lead to feelings of inadequacy and self-doubt. It's essential to acknowledge that everyone, regardless of gender, can struggle with body insecurities. Insecurities can also stem from past experiences, such as a history of failed relationships or parental divorce. These experiences can lead to a fear of commitment or a distrust of others, making it difficult for high school students to fully open up and trust the people around them.
"I learned early on that if I opened up to family, sooner or later, everyone would hear about what I'd said," Lopez said.  I also learned that sometimes, you can't trust your own family, and so I tend to shut down personal conversations with family aside from the occasional 'How's school?'"  " It's made me question my self-worth and, on the occasions the culprit has been my family, I tend to hide away until I'm over it. It's not a welcome feeling."
Relationship insecurities are another struggle that many high school students face. As they navigate the complex world of adolescence, relationships with peers and parents can become increasingly challenging and even intense at times. It's not uncommon for high school students to feel insecure in their relationships, whether it's with friends, romantic partners, or family members. The need for acceptance and validation from others can often lead to insecurity in relationships. Students may worry about being liked or fitting in, and this can cause them to compromise their values or beliefs. They may also struggle with feelings of jealousy or possessiveness in romantic relationships, which can lead to further insecurity and stress. Insecurities in relationships can also stem from a lack of communication or misunderstandings. High school students may find it difficult to express their feelings or communicate effectively with others, leading to mistrust or resentment in their relationships.
"I've never wanted something more than a career in a medical field and I seriously don't know what I'd do if it didn't work out," junior Mary Stiles said. "It's been a lot harder to keep up in the accelerated classes, and I feel lesser compared to my classmates"
Many high school students may feel uncertain or anxious about their future, especially if they feel they are not performing as well as their classmates. It's common to compare oneself to others and worry about falling behind. However, it's important to understand that everyone's journey is unique and there is no set timeline for success. It's okay to not have a clear plan for the future yet, as it takes time and exploration to discover one's passions and interests. 
"I have a problem with procrastinating, and considering how our world has begun inflating like crazy, I don't find it possible for someone like me to settle comfortably at all in life," Lopez said.
To help students overcome their insecurities and gain clarity about their future goals, there are many resources available. Career counseling and mentorship programs can provide guidance and support for students as they explore different career paths and develop a plan for their future. With hard work, determination and the right support, success can be achieved at any pace.
It's important for high school students to know that they are not alone in their struggles and that there are resources available to help them navigate these challenges. Instead of comparing themselves to others, they should focus on becoming the best version of themselves and not let others dictate their worth. So if you're a high school student struggling with insecurities, know that you're not alone. Take comfort in the fact that everyone has their struggles, and focus on becoming the best version of yourself. 
"You don't have to look like any of the 'fake' bodies we see on billboards, movies, commercials, etc.," Lopez said. "Everything is fake, nobody is real, and the faster you realize your body is all yours to own, the faster you love yourself."