UIL.
This is a word that tends to come up when talking about the school's academics. The acronym stands for University Interscholastic League, which is an academic competition, a way for students to compete in a subject they have a fondness for. 
There are different views of UIL and among those, there are some students who are still wondering if they should join a team. 
When considering joining a team, start by looking at a current member's thoughts; Jaxon Dial is able to offer a viewpoint. 
"UIL is created by UT Austin to give public schools a chance to participate in sports, academics and fine arts," Dial said. "It allows for public schools to do competitions that are very accessible with other public schools."
Another consideration for deciding on an event would be the intensity level.  According to Computer Science Coach, Colin Yeilding, it depends on the individual.
"I would say that UIL could be rated a two or three for some students and a nine or 10 for others," Yeilding said. "Some students put a lot of effort into UIL as they strive to do well not only at district, but also at region and state. Not all students push that hard, and some kind of take a more relaxed approach and just enjoy the competition."
If someone has still not decided if they wish to join a team consider looking at one's interests. Kaitlyn Tyk believes that one's interests allow more to join. 
"I've been doing UIL since fourth grade, the year after I moved," Tyk said. "UIL interests me because as someone who doesn't participate in sports or band, but still enjoys competition, UIL gives that opportunity. Especially since it has many different competitions (i.e. computer science, accounting, current events, etc.), it allows more people to join based on their interests."
If personal interests don't help, consider looking at others' favorite parts of UIL. The Debate Team Coach, Angela Furtick, has her own part to share.
"Participation in UIL activities gives students a place to belong in their school community," Furtick said. "UIL allows students to work and learn as part of a team. Skills developed through participation in UIL are invaluable to student development. UIL activities make the school experience more fun and rewarding."
Right before finalizing the decision, find out what someone should know if they decide to go into UIL; Yielding can provide some information on this topic. 
"We have events in so many different areas. If you're good at math, we have three different math events," Yielding said. "If you're not a strong math student we have numerous writing and literary events. We also have events in history, science, and some of the career tech courses."
If the decision made is for joining UIL, one would want to know what to do when the contest clock is running out of time to answer questions.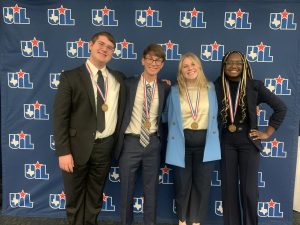 "It's taking more educated guesses while you're in the [contest] room and doing your best to figure out why you're in there," Dial said. "For future tests, make sure that you have a better foresight of 'I should be going faster in the beginning,' because a lot of times it's just taking more time in the beginning will mean you don't have as much time at the end. So it's just taking more tests and making sure you know how to pace yourself."
UIL is not for everyone, but for those who join it is an experience that stays with them for years to come. 
"I love UIL competition. As a high school student, I competed in UIL," Furtick said. "As a college student at UT, I worked as an intern at the UIL offices. As a teacher/coach, I recognize how important and valuable UIL competition is to students."