Looking Through a Lens
For high school junior and Owl Flight photographer Christian Vyers, his idea of a good time is snapping some shots with his camera under the starry night sky, or an outstretched landscape to capture the view. Vyers waits in anticipation as the film rolls out of his beloved Canon AE1. 
"I like shooting on film, and I like to shoot on film because I feel like it captures the moment," Vyers said. "Like on a digital camera, you can take as many pictures as you want, because you have virtually unlimited pictures. And on a film camera, you only have so many stills, so you have to really pick and choose what moments you want to capture. And you don't know how they're going to turn out until you get them developed." 
There is definitely a huge difference between a film camera and the more commonplace digital camera.
"I love it, it's from '81 and it came with all of the original stuff, and the owner's manual, and it sounds cool because it's analog," Vyers said.
It seems that Vyers and his film camera are inseparable.
"I take it virtually anywhere, but I don't take that many pictures because I'm too worried about… what if it's not a good picture? Because I've got to use the film," he said.
Vyers started his journey exploring astrophotography during quarantine.
"I was at my aunt's house like way out in the country, so I got to see the stars really nicely and I took pictures of them with long exposure so you could vividly see all the stars," Vyers said. "It was really cool." 
One of his other picture-perfect experiences involves a friend and his skateboard.
"Stars and landscape are probably some of my favorite things to shoot, but I shot some skateboarding photos for my friend, and did some film work for him," he said. "It was fun, I enjoyed that." 
While astrophotography and film work have a special place in his heart, Vyers also enjoys attending school events with newspaper advisor Ms. Zachry to take photos for upcoming issues of The Owl Flight, at theowlflight.org.
"It lets me capture a lot of moments," he said.
Another photographer who expresses this sentiment is high school senior Hannah Young. She has started a photography business through social media and even has some of her work featured in the yearbook.
"I love memories; If I can capture other people's memories and give them things to look fondly back on, I've completed my photography purpose," Young said. "Also, my grandmother loves my photos and I want to always have something to show her." 
One of her favorite memories is a shoot she did for a recently engaged couple: high school seniors William Thompson and Lacey Christian.
"I definitely have a favorite photoshoot and when people ask me to show them my favorite photos, I always start with my very first engagement photoshoot," Young said. "I contacted a recently engaged couple with the interest of taking their engagement photos. They were hesitant, but the results were amazing. I also booked five photoshoots just from the reactions of people on Facebook and Instagram."
Through the reflective lens of her Nikon D3500, Young has seen the life milestones of many different people. The results are visible on her Instagram account: @hannah.young.photography.
"I love people photos: maternity, senior, birthday, couple, cake smash, you name it," Young said. "If it shows people and their raw emotions, I will take the photos." 
While her photography business is more of a side hustle, Young has come a long way since she first started out.
"Every photographer makes progress," she said. "I would say my creativity during shoots and my social media presence has drastically improved. I have a better sense of posing and props in my shoots to each person and I finally figured out how to link my Instagram and Facebook." 
Young has some advice for anyone looking to expand on their photography skills.
"Don't judge your work based on other people's work. I am so guilty of this; I am my worst critic and it stems from other people's photos," she said. "Don't get yourself down if you can't perfect a certain type of photo because those people could have been photographing for years before you. Judge your own progress at your pace, not someone else's." 
High school junior Rowdy Dunson captures his moments riding through winding back roads with a camera in tow. While Dunson has made some attempts at "people photos," he found that he has a preference for nature photos.
"I find that with nature, no makeup or any preparation is needed," Dunson said. "It seemingly was made perfectly for the moment and it's as easy as just lining up the shot." 
His scenic nature photos can be found on his Instagram account: @photo_bandit.
"I'd say it is mostly a hobby, but it has crossed my mind here and there to find a way to publish my photos and show the world that nature is just as beautiful as a model; maybe even making some money on them," Dunson said.
As both a nature photographer and a cross-country athlete, Dunson loves the outdoors.
"The first time I've experienced taking pictures I'd have to say, was when I would go on bike rides down the country roads and I'd see how the sun would shine on nature and how everything was just already in place and looked naturally beautiful," he said.
Dunson really appreciates his camera as well as nature. In fact, it can snap a picture faster than we can spot him running laps around the track.
"It's easy to take along with me, and has so many features that allow for me to get stuff in the proper lighting," he said. "I'd probably call it 'Flash' due to how quickly and easily it can take a picture."
Dunson also has his own advice for anyone that is looking to improve the quality of their photos.
"To anyone who would want to take pictures, start off with something that you love and just keep taking pictures of it," he said. "Try different angles and different lighting until it looks the way you want." 
Leave a Comment
Your donation will support the student journalists of Joshua High School. Your contribution will allow us to purchase equipment and cover our annual website hosting costs.
About the Writer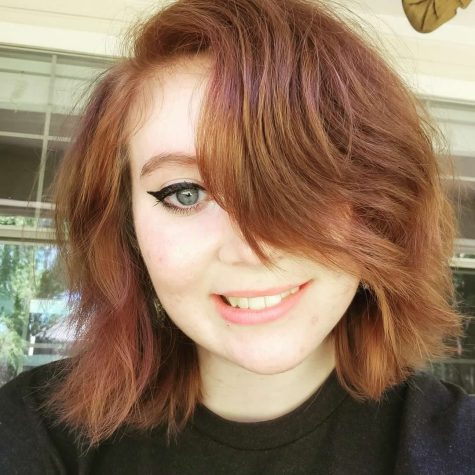 Brooklyn McKinney, Reporter
Hello! I'm Brooklyn :) I enjoy reading, writing poetry, and watching Tim Burton movies. I also run the 400-meter dash for the track team and have a major...