Theatre-Thespian Festival
From November 17-19, Theatre students had the opportunity to compete in the Texas Thespians Festival. Texas Thespians host two annual state-wide festivals with over 10,000 delegates devoted to teaching students the art of acting.
"I'm excited about the competitions we will be taking part in," the President of the Theatre Club, Russell Hollins said. "I have to perform two monologues for three judges."
His enthusiasm for the trip was shared with his fellow thespian, Morgan Hepler, who was hoping to conquer the many water slides in the Great Wolf Lodge across the street, as well as impress the judges with her solo performance of "Hopelessly Devoted to You" from Grease.
"I'm super excited about our trip," Hepler said. "We have tickets to the Gaylord and the waterpark, which is going to be super awesome." 
Each day, the students attended the various acting workshops that Thespian Fest has to offer early in the morning.
"I'm most excited to hear from the famous actors and teachers that come to teach workshops about different aspects of theater and acting," Hepler said.
Later in the evening, they competed with the other attending acting groups.
"We have some people doing a monologue, a girl doing prop creation, I'm doing a solo musical, and there [is] some [doing] duo [act] as well," Hepler said.
Kaitlyn Tyk and Abigale Miller decided to perform a duo act from The Very Bad Girl Scouts by John P. Mcenemy.
"I thought a bunch of people would be doing serious ones, so we picked something funny so that we could be different," Miller said. "I can relate more to something funny than something depressing or sad."
Their skit was about a 14-year-old girl named Mandy that confessed to her boyfriend, Burton, that she ate all 150 boxes of girl scout cookies that she was supposed to sell. She tried to get him to help her hide the evidence before her mother arrived home that night.
In the evenings after attending all of the workshops, the students finally returned to their rooms at Great Wolf Lodge and enjoyed the indoor waterpark.
In addition, according to the Theatre Arts teacher, Mrs. Furtick, the students had the opportunity to watch at least five different plays during their trip.
One of these performances took place at Gaylord Texan, so they also purchased tickets to see the ice attractions there.
It seems like these Theatre students had a show-stopping time, but this was more than just an average school field trip.
"I think it went really well," Hollins said. "We had five people advance to the national level in the competitions we competed in."
Leave a Comment
About the Writer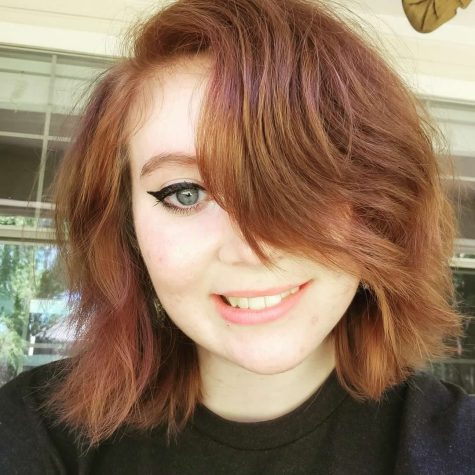 Brooklyn McKinney, Reporter
Hello! I'm Brooklyn :) I enjoy reading, writing poetry, and watching Tim Burton movies. I also run the 400-meter dash for the track team and have a major...