Comanche Peak Rifle Match
Technical Malfunction is No Contest for NJROTC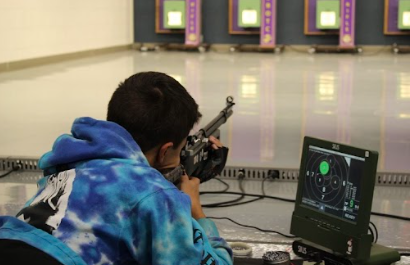 The school's Navy Junior Reserve Officers Training Corps had its first rifle match of the season on October 8. It was the Comanche Peak Rifle Match, hosted by Granbury High School. 
The Precision A and Sporter A teams represented the school at the match. Shooting for Sporter A were Cadets Riley Woods, Hayden Miller, Nathan Catoe, and Trenton Rodrigues. The shooters on Precision A consisted of Cadets Carter Trahan, Brooklyn Reames, Aren Golleher, and Team Captain Nolan Sharp. 
Cadets Alexander Glenn and Jaren Vickers were also selected as alternates to participate in the match.
 The match consisted of three different positions: prone, standing, and kneeling; each with only 20 shots.
For prone, the shooters lay on the ground lined up with the target. They are given eight-minute sighters and start there for 20 minutes for 20 record shots. 
After prone, they have five minutes to change over their equipment to standing. Then, they are given five minutes for their sighting shots, followed by 25 minutes for 20 record shots.
Finally, they are given five minutes to change their equipment over to kneeling. Following this is five minutes for sighters and 20 minutes for 20 record shots.
"It's all about focus," Cadet Sharp said. "All I thought about was shooting those perfect shots."  
Cadet Sharp finished with the prone record fire with a perfect score of 200. Following closely behind him was the rest of the team. 
In between each position, the shooters cycled through and had a chance to quickly recap their technique with Coach Lt. Colonel Davidson. The cadets were given congratulations and tips to help improve because even one bad shot from any shooter could cost the team the entire match.
After a rough standing from the team, Lt. Colonel remained confident the team could reach a final score of  2,300.
With only two Joshua shooters left shooting, the system malfunctioned. The shutdown lasted for 10 minutes and caused a significant amount of confusion. The final shooters had to remain in their kneeling position until the issue was resolved and the system was up and running again. 
Even with this unforeseen situation, the Precision team placed third, with a final score of 2,314. The Sporter team also finished in third place with a final score of 1,997. 
Sporter shooter Riley Woods made the final round. There was also a Joshua cadet who earned her Junior Distinguished Bronze Badge, which is awarded to a shooter who shoots a 578 or higher on a Civilian Marksmanship Program match.
"Anything you feel right before a test," Cadet Woods said. "That's how I feel right now."
The final round was a tough race to win. A shooter could start in last place and within a couple of shots move up to the top three. Cadet Woods put up a good fight and finished in fourth place. 
"Our team was outstanding," Cadet Sharp said. "Our first match of the year and we shot a 2,314. This is our year." 
The next match will be held at Joshua's range on December 1-3. This is the Area 10 match. If the team qualifies, they will shoot at Navy Nationals in Utah, in February. 
Leave a Comment
Your donation will support the student journalists of Joshua High School. Your contribution will allow us to purchase equipment and cover our annual website hosting costs.
About the Writer
Aren Golleher, Reporter
Hi, my name is Aren Golleher and I am one of the reporters of The Owl Flight. I am so excited for this school year and to see where it takes me! I'm...