Power Couple
Students Share Love, Powerlifting
Friends and romantic partners alike usually have something that brings them together. Whether it's a shared interest, circle of friends, or a hobby, from this a bond is formed. For seniors Abby Mitchell and her boyfriend Bradley Gregory, more commonly known as "Bear," their bond started off strong with powerlifting. 
Mitchell began lifting in seventh grade following in the footsteps of her dad, and ever since she and the sport have become inseparable.
"It's not as easy as most people think it is," Mitchell said. "It's very complex and I really love studying and perfecting each lift." 
She holds many records in the region, and even nationally, including the regional bench press record with a 255-pound bench press, a United States Power-lifting Association raw bench press record of 165 pounds, and a USPA single-ply record of 231.5 pounds, or 105 kilos.
She said, "I think the biggest contributor to my success in powerlifting has to have been my dedication and willingness to do whatever it takes to reach my goals."
Bear began his journey with the sport for a different reason, however.
"I've been doing it since 9th grade," Bear said. "[Abby's] basically the reason I got into it, you know, so I could hang out with her. But then, you know, I started getting my own goals for it. So that's kind of why I stayed longer."
While he was already head over heels for Abby Mitchell, over time Bear would share her love for powerlifting.
He said, "It's mainly competing against yourself. Like, the only competition you have is you, yourself."
Bear said some of his biggest supporters are Abby and her family.
"Abby is my role model," Bear said. "I mean, she's just amazing."
In addition to powerlifting, Bear also plays football and paints with his aunt, who is an artist.
Abby Mitchell and Bear have a strong love for each other as well as their passions. They are very talented, and people could say that together, they are a "power couple."
View Comments (1)
About the Writer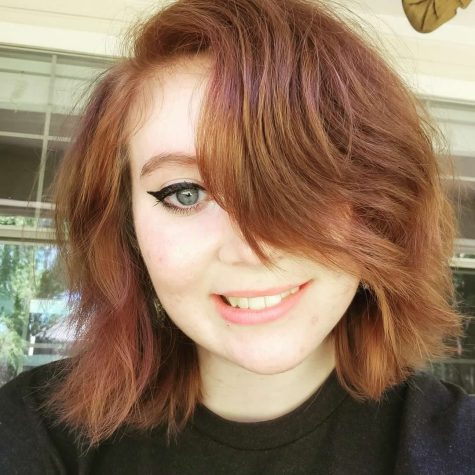 Brooklyn McKinney, Reporter
Hello! I'm Brooklyn :) I enjoy reading, writing poetry, and watching Tim Burton movies. I also run the 400-meter dash for the track team and have a major...