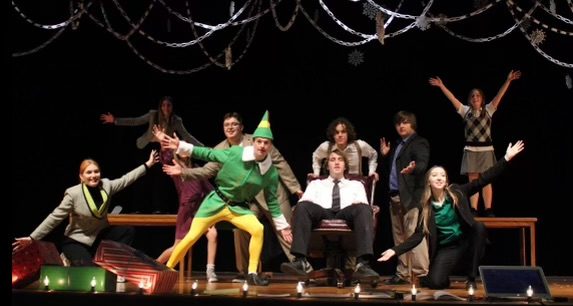 Ava Tonche
School may go out the last week of December, but the stage lights are on for the Joshua Theater Department as they perform their first ever musical.  Elf the Musical Jr. will have three performances: Dec. 17, 18, and 21. Before performing this exciting tale of Buddy, as performed by senior Morgan Haferkamp, the cast of Elf Jr. has worked day-and-night to perform the celebration of the wonders of Christmas. 
I'm excited but there is still a lot of work left to be done before then," Haferkamp said. "I'm confident that our final product will be good. I've been working on getting my voice in tune with the music and practicing with different styles of singing to figure out what fits the song the best. There are many high notes [in the songs] that I have been preparing for. It's all a bit new to me, as I've never done a musical before and I never thought I would either. As hesitant as we were to do a musical, we are having a lot of fun with it. I'm hoping people enjoy the play as much as the cast is."
The unexpected musical has provided a lot of fun and bonding for the cast as they work hard to provide a good production. The musical has been a wild ride, with multiple rehearsals during the week to practice their blocking, acting, singing, and all of the other skills that are required to run a musical.  Elf Jr. has been much more time-consuming to perfect than the usual plays the department has produced in the past, and in a week, the cast will be ready to perform. 
"There is a lot more than just acting in a musical," Haferkamp said. "[That] means practices have to be longer in order to work on the music and choreography on top of the acting. You have to remember all your lines, music and now the choreography to each song. So yeah; long practices are necessary."
The lead of Elf Jr., Haferkamp, began his acting career unexpectedly, but has excelled ever since. In his freshman year, the theater directors took a chance on him because they saw the potential for a great actor. Now, in his senior year, Haferkamp has since been a leading actor in both his sophomore and junior year for the One-Act Play. 
"Being in Theatre Production was completely unexpected," Haferkamp said. "I was originally just in Theatre for my high school credit until my teacher had the class do improv scenes with a group, and I just had fun with it. My teacher told me I had potential and pulled me into the production class where I've been doing One-Act and school plays ever since. It wasn't my intention to end up here, but I'm glad I did. It's been a wild and fun experience so far."